Following a thorough and lengthy investigation, Orange County District Attorney Todd Spitzer's office has ruled that a California Highway Patrol officer was justified in the 2020 shooting a homeless man who fired a loaded revolver at the officer at close range.
"Officer [Jonathan] Torres was justified in believing that Sabat posed a significant threat of death or physical injury to himself and others," states the report. "This conclusion is based on the totality of the circumstances but heavily based on the conduct of [Armando] Sabat during the course of the shooting."
The incident took place on the morning of October 15, 2020. CalTrans crews needed to clear a homeless encampment located at the cloverleaf of the westbound Katella Avenue onramp to the I-605 freeway. After the crew called out to see if anyone was in the encampment, 71-year old Armando Sabat poked his head out from a make-shift tent of tarps, blankets and drop-clothes. After Sabat told the crew he couldn't leave, they informed him the CHP was on its way.
After CHP Officers Jonathan Torres and Gary Robinson arrived on the scene, they spent several minutes repeatedly asking Sabat to come out of his tent, informing him that he had to leave the encampment. Sabat responded angrily, saying he was getting dressed and refused to leave.
Officer Torres approached Sabat's tent and peered inside; he saw Sabat crawling towards him and holding a large revolver – which turned out to be a Model 1860 Army Old Silver .44 caliber revolver Sabat had purchased in 2019.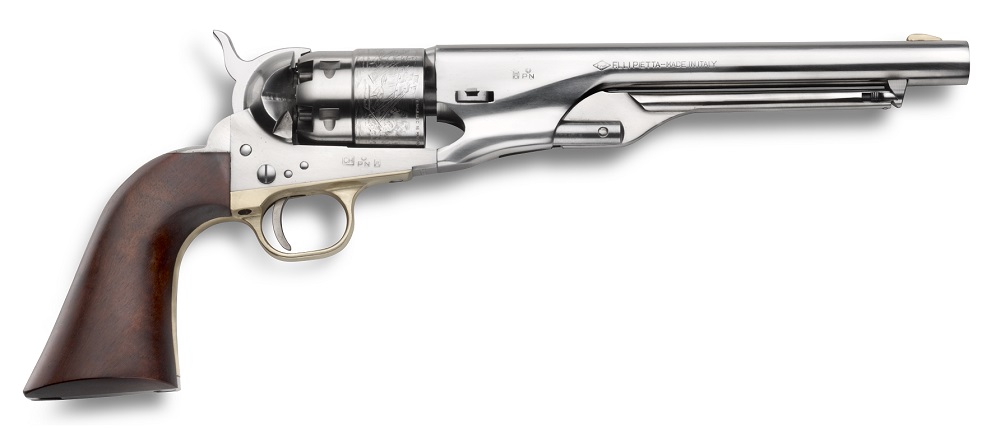 Torres saw the suspect was armed and reached for his own weapon Sabat pointed the revolver at Officer Torres and fired. Torres told investigators he felt a stinging sensation on the left side of his face. His left eye was completely shut (later determined to be mud and grease discharge) and he believed he had been seriously injured and was in danger of being fatally shot.
Torres fired back at Sabat a total of eight times, while backing away from him. Torres and Officer Robinson took cover behind a CalTrans truck and waited for backup units from nearby police departments to arrive. The last they saw Sabat, he was going back into his tent and did not know if he had been hit by any of Torres' shots. They did know Sabat was armed, had fired his weapon at them and was not responding to commands to surrender.
Knowing Sabat was armed and dangerous but not knowing his condition, officers on the scene, working with the Orange County Fire Authority, used an aerial ladder and high-pressure hose to blast way Sabat's jury-rigged shelter. A few minutes later, Sabat was found lying face down, dead.
His large-caliber revolver was found with five of its six chambers loaded.
Subsequent to the shooting, investigators on the scene also found a .40 caliber semi-automatic hand gun, two 15 round magazines and ammunition, and a 10-ince Bowie-style hunting knife.
Sabat had a long criminal history, with eight convictions stretching back to 1981. His convictions included:
Assault with a deadly weapon
Carrying a concealed weapon
Carrying a loaded firearms in public
Annoy/molest children
Fighting in public
Bringing a weapon to court
"Officer Torres responded with lethal force because it matched the level of force that Sabat had initiated against him," states the report, adding that Torres "carried out his duties as a peace officer in a reasonable and justifiable manner."