Partisan political considerations were a key factor in the voting districts map approved last month by an arcane state-mandated agency for Orange County Board of Education elections – an action taken over the objections of the OC Board of Education itself, which had already adopted a voting districts map.
OC Board of Education elections are non-partisan, and partisan affiliation breakdown of voting districts isn't a criterion for choosing a voting district map. District maps have to be compliant with the federal Voting Rights Act and the California Voting Rights Act.
10 maps were submitted for consideration by the OC Board of Education at its December 1, 2021 meeting. Although each of them broke down the five voting districts by total population and demographic categories such as age, ethnicity, citizenship, etc.
However, only the map submitted by teacher union activist Billie Joe Wright included a breakdown of each district by voters' party affiliation. Although Wright painted his efforts as being waged "for students in the fight for a fair map," his submission clearly signaled partisan considerations were front and center.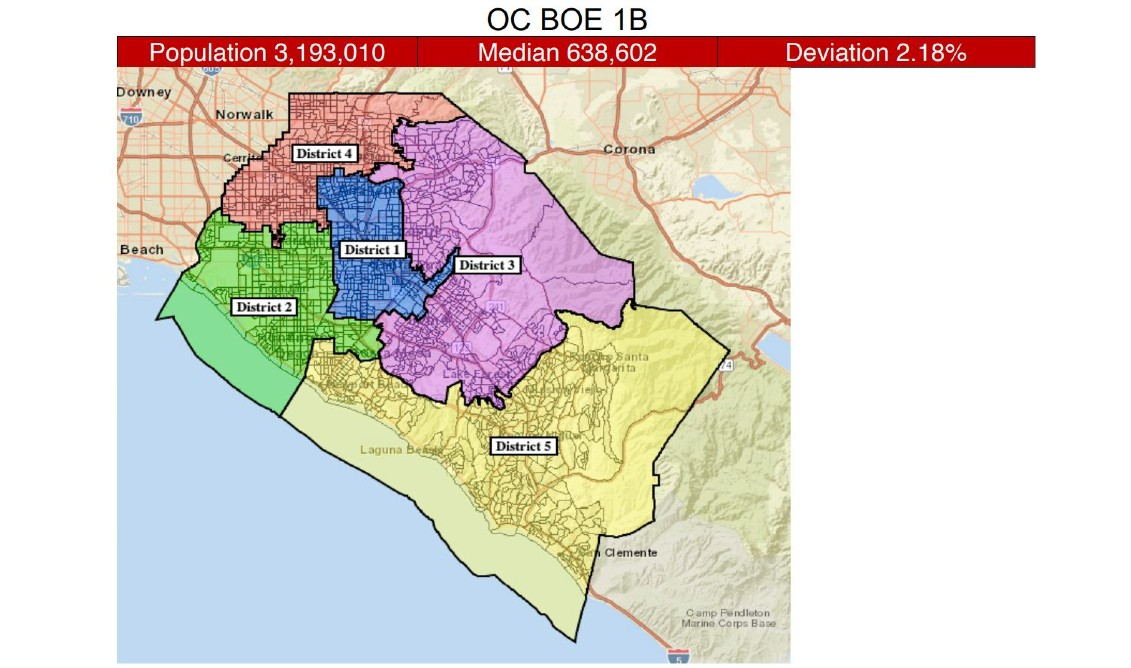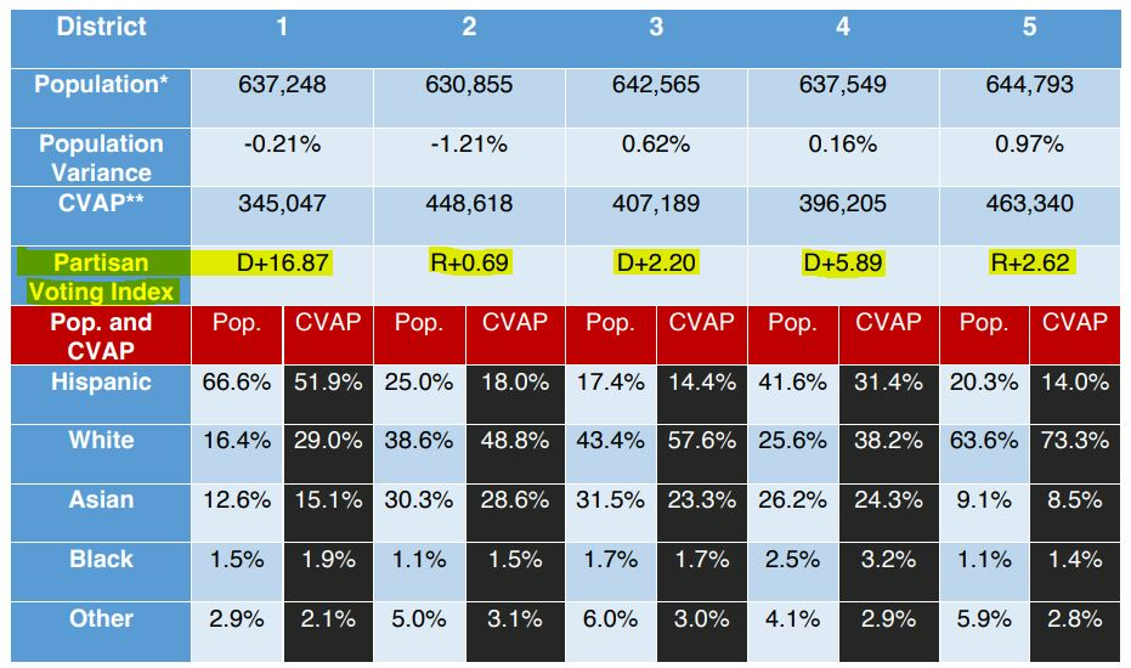 Furthermore, according to the map's metadata, the author was not Billie Joe Wright but Claudio Gallegos, a political redistricting consultant and former district director for Rep. Lou Correa. Gallegos has covertly created voting district maps for other OC jurisdictions, including Anaheim and Garden Grove.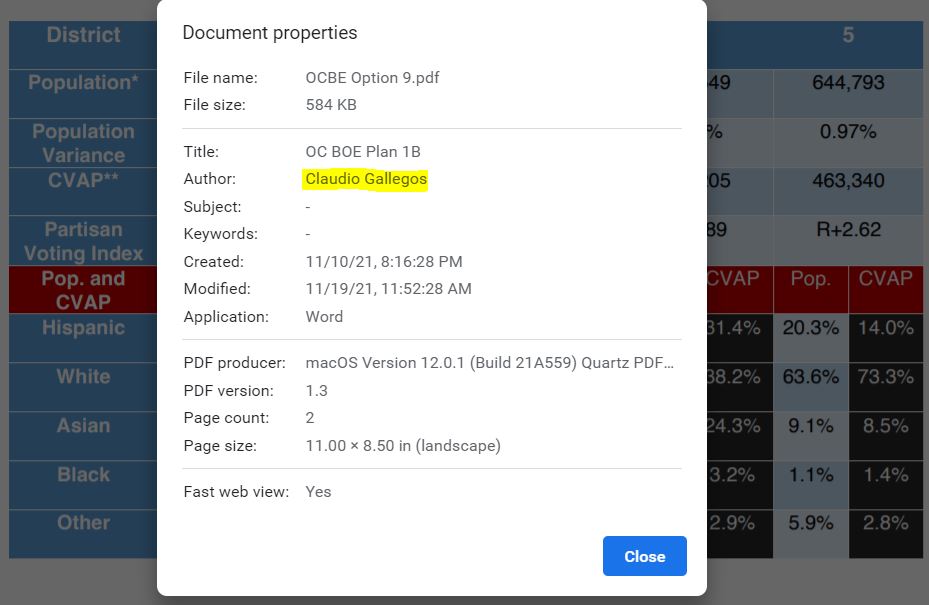 I asked Wright for comment via a question on his Facebook page; he responded by deleting the comment and blocking me from his Facebook page. I e-mailed him a second request for comment, but Wright has not responded.
OCBE Adopts Professional Demographer Map; Wright Allies on Schools Committee Maneuver
The OCBE adopted a map drawn by its professional demographer, which contained zero-population deviation among the five districts – meaning each district had exactly the same number of people, as close to the principle of "one man, one vote" as is possible. The map was compliant with both state and federal voting rights acts, creating a district that was majority Hispanic and another with an Asian plurality that kept communities of interest like Little Saigon intact.
The OCBE's approved map was then taken up by the obscure Orange County Committee on School District Organization (OCCSDO)- which historically grants routine approval to school district maps.
However, the normally sleep committee suddenly roused itself and hired Democrat redistricting expert Paul Mitchell as a consultant. Mitchell is by far the largest vendor of voting data in the state, and last year announced his company would no longer provide voter data to Republican campaigns or candidates because of his "commitment to building the progressive movement."
Wright allies on the OCCSDO maneuvered to have the Wright-Gallegos map picked as the recommended map, and scheduled a vote for January 27.
Both sides mobilized supporters to the OCCSDO meeting, which became heated. Vietnamese-American community members were vocal in their opposition to the Wright-Gallegos map, which split Little Saigon in two.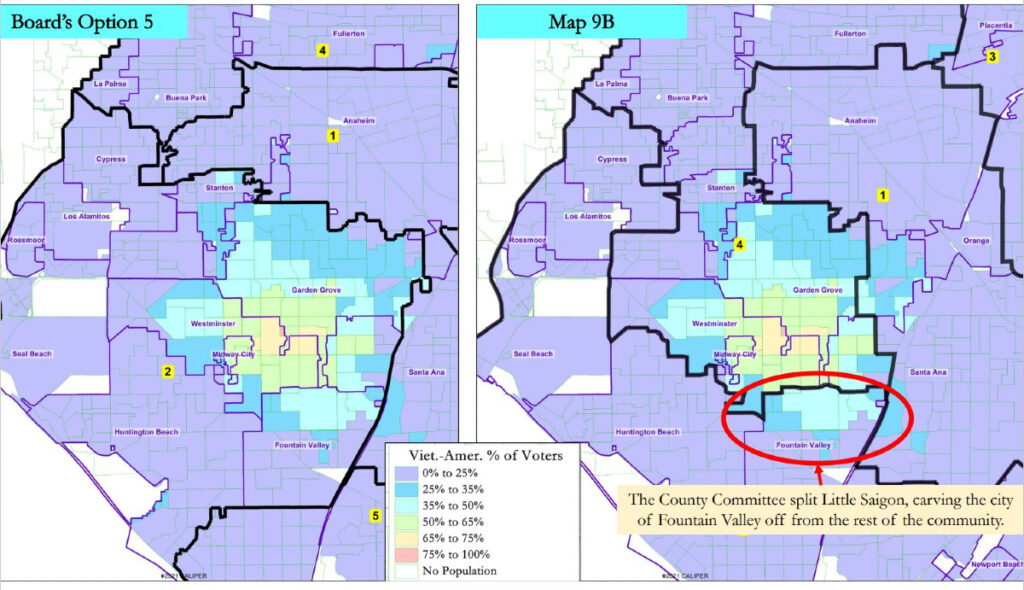 Progressive advocacy groups such as the Asian-American Legal Center and Asian Americans Advancing Justice are usually vocal advocates of keeping Asian "communities of interest" like Little Saigon together – but in this case they were notably silent on the Wright-Gallegos map diluting Little Saigon's voting power by dividing it between two districts.
During the January 27 meeting, Wright admitted Gallegos' role in creation of his map after opponents brought the evidence to the attention of the OCCSDO during public comments.
As reported previously in the OC Independent, the OCCSDO – which is stacked with either teacher union activists or their political allies – rejected the map drawn by the OC Board of Education's professional demographer, and selected the openly political map devised by Wright and Gallegos.
The battle of the maps continues: the OC Board of Education transmitted their approved map to OC Registrar of Voters Neal Kelley, who has said he will proceed using the map adopted by the OCCSDO unless a court directs him otherwise. The OCBE is also seeking judicial intervention, asking the court to nix the OCCSDO map and reinstate its approved, alleging the OCCSDO is politically biased and violated state law.