Dr. Jim Elsasser, the superintendent of the Placentia-Yorba Linda Unified School District, announced this week that he is leaving to become superintendent of the Claremont Unified School District, effective July 1 of this year.
In an announcement posted on the district website, Elsasser said, "This decision did not come lightly. It has been an honor and a privilege to be the Superintendent of the Placentia-Yorba Linda Unified School District (PYLUSD), an outstanding organization I had always hoped to be a part of one day. I am grateful to the Board of Education for entrusting me with this role and the opportunity to serve this community."
Elsasser served as CUSD superintendent for nine years prior to coming to the PYLUSD in 2020. The Claremont district was in the market for a new chief executive after the CUSD Board of Education fired Superintendent Jeff Wilson without cause on April 1, after less than a year on the job.
"I was surprised to hear Dr. Elsasser is leaving our district. I wish he would stay and continue the work in PYLUSD," PYLUSD Trustee Leandra Blades told OC Independent. "I respect his decision and wish him the best. It was a pleasure to get to know him, and Claremont is once again getting a wonderful person and a great Superintendent."
Elsasser's departure has re-opened political fault lines among PYLUSD activists, since it comes in the wake of the Board of Education's vote on April 5 to ban Critical Race Theory from inclusion in its curriculum, an action that garnered media attention and sparked both praise and outrage.
READ: PYLUSD Board of Education Votes To Prohibit CRT From District Curriculum
Left-wing activists are blaming Elsasser's departure on the action of the conservative Board majority and voiced strong reactions on social media: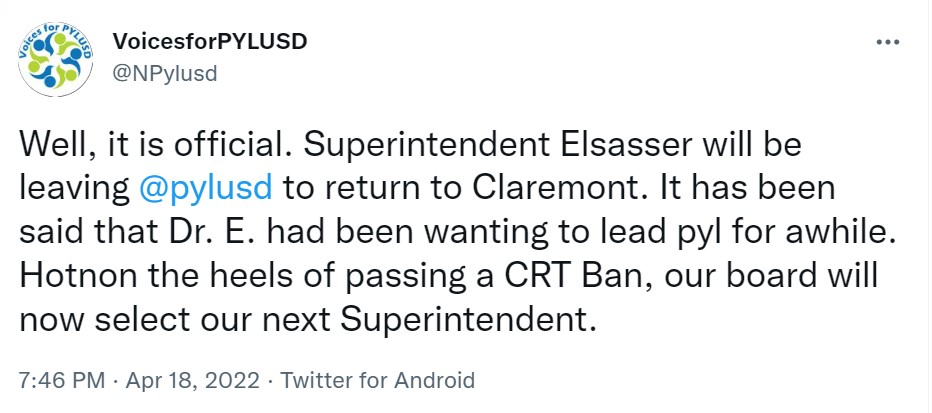 In the November 2020 elections, three conservative candidates who were supportive of school choice and parental rights swept the PYLUSD Board elections: Leandra Blades, Marilyn Anderson and Shawn Youngblood.
One of their goals has been to sideline radical pedagogy and focus on the district's core mission: education. During the April 5 PYLUSD Board meeting, prior to the CRT ban vote, staff gave a presentation on achievement scores posted by district students. The results were fairly appalling.
Later in the evening, Blades said her sponsorship of the CRT ban was prompted by a desire to get politics out of the classroom and focus on improving educational quality.
"Why are we messing around with this stuff instead of just educating children," prompting thunderous applause from the audience.
The next meeting of the PYLUSD Board is April 26.