Representatives of Orange County cities will meet this Thursday to choose who will represent them on the Orange County Transportation Authority's Board of Directors. The selections take place while the OCTA remains gridlocked in negotiations with the union representing OCTA buys maintenance employees, Teamsters Local 952.
The Teamster have been rejecting an offer from OCTA that would raise bus maintenance workeers' pay 14.25% over three years, dramatically reduce their health insurance premiums and make them the highest paid transit workers in their categories in Southern California, behind the LA Metro agency.
How It Works
The appointments are made by the City Selection Committee, the mechanism through which city representatives also elect who will hold seats on other regional bodies.
The composition of the OCTA Board of Directors is prescribed by state law. It consists of 18 members: the five members of the Orange County Board of Supervisors, two city representatives from each supervisor district, the director of Caltrans District 12 and two "public members" chosen by the rest of the Board.
The city representatives of each supervisor district come from two categories: one elected on a "population weighted" basis (i.e. each city has a vote equal to its share of the population in that supervisor district) and a one-city/one vote representative.
The mayor of each city (or another duly-authorized council colleague) casts a vote for his or her choice in the city-representation seat.
In some supervisor districts, the population weighted seat is effectively decided by a single city. Fior example, since Santa Ana contains a majority of the 2nd Supervisor District population, that city's mayor can dictate who holds the district's population-weighted seat on the OCTA Board.
Any sitting and eligible mayor or council member can apply for election from either the population-weighted or one-city/one-vote seat on their district.
Some Criticize Timing, While Others Defend It
The City Selection Committee meets in in late November, before local elections are certified and new mayors and council members are sworn in.
Though this has long been the case, some politicians are trying to stir controversy over the timing. According to sources, Supervisor Katrina Foley is critical that outgoing mayors will make appointment decisions and the incoming mayors of Anaheim and Santa Ana won't be sworn in until next month and so won't have a say in who represents their cities on the OCTA Board.
However, this is hardly new. In 2018, shortly before he was forced out by term limits, Anaheim Mayor Tom Tait appointed his political ally, Councilman Jose F. Moreno, to serve the remaining year on Tait's term on OCTA. Whenb that term expired, Anaheim Mayor Harry Sidhu appointed himself to the population-weighted seat at next City Selection Committee meeting.
Santa Ana Mayor Miguel Pulido did the same thing just before he left office, appointing his council colleagues Vince Sarmiento (who had just been elected mayor) to complete his term on the OCTA Board of Directors.
Defenders of the current practice point to the purpose of the City Selection Committee: a forum where representatives from Orange County cities choose who among their peers will speak for them on the OCTA Board of Directors. The benefit to having those decisions made by mayors with time in office is their experience working with elected officials in other cities, or at least watching them in action, in addition to having a better understanding of the partnership between OCTA and OC cities. This experience, in theory at least, contributes to representation choices being made more intelligently and prudently – as opposed to putting the decisions in the hands of newly-elected mayors who may have no experience with OCTA nor any of the candidates for Board of Director spots.
Who Is Running
1st Supervisor District: The population weighted seat is up, and Fountain Valley Councilman Patrick Harper is seeking re-appointment. Huntington Beach Councilman Dan Kalmick is also seeking the appointment. However, according to sources, outgoing Huntington Beach Mayor Barbara Delgleize has committed to Harper. Earlier this week, outgoing Huntington Beach Councilman Mike Posey tried unsuccessfully to convince his colleagues to direct Delglieze to support Kalmick.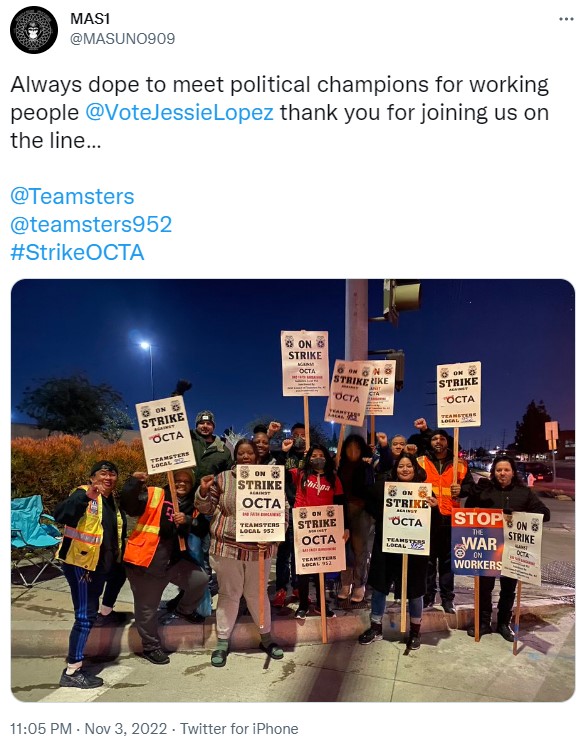 2nd Supervisor District: Both the city representation seats are up. The population-weighted seat is currently held by Santa Ana Mayor Vince Sarmiento, who has narrowly won election to the OC Board of Supervisors. Sarmiento will be able to single-handedly decide his successor this seat, and while remaining on the OCTA Board of Directors as the 2nd District Supervisor.
Orange Mayor Mark Murphy currently holds the other city seat. Murphy is narrowly losing his re-election bid, and is not expected to prevail. Either way, he will cast Orange's vote.
Santa Ana Councilwoman Jessie Lopez, a Sarmiento political ally has applied for both seats. Lopez is a radical progressive who supported Teamster Local 952 when it went on strike in early November and shut down the county's bus system for several days – even joining striking Teamsters as they picketed OCTA bus facilities.
Tustin Councilman Austin Lumbard, who was just elected mayor, is rumored to be interested in the one-city/one-vote seat.
3rd Supervisor District: The population-weighted seat is up. Irvine Councilmember Tammy Kim has applied for the spot, but Irvine Mayor Farrah Khan intends to secure that spot for herself. Irvine accounts for a majority of the population in the 3rd Supervisor District, meaning Khan's decision is decisive.
4th Supervisor District: Anaheim is the dominant city in terms of population, which is why the population-weighted seat is always held by an Anaheim official. The Anaheim mayor's office has been vacant since Sidhu's resignation in May, and won't be filled until Ashleigh Aitken takes office in December. The city council recently voted unanimously to designate Councilman Jose Diaz as its voting representative for City Selection Committee, and he plans to seek the population weighted seat. He only needs the vote of one other 4th District city to secure the appointment.
Fullerton Councilman Fred Jung is seeking re-appointment as the one-city/one-vote representative, but is being challenged by long-time Brea Councilman Marty Simonoff.
5th Supervisor District: only the one-city/one-vote seat is up, and there are two candidates: Costa Mesa Mayor John Stephens and Dana Point Councilman Jamey Federico. Laguna Hills Councilman Don Caskey was also going to seek the seat, but according to sources has withdrawn and is requesting Laguna Hills cast its vote for Federico.