The two Santa Ana Councilmembers being targeted for recall held a press conference yesterday where they and their progressive allies lashed out at the police union, claiming they are being singled out because they are "women of color."
Santa Ana Councilmembers Jessie Lopez and Thai Viet Phan have been served with recall notices. The recall campaign is chaired by long-time Santa Ana civic activist Tim Rush and is supported by the Santa Ana Police Officers Association, the union representing rank-and-file Santa Ana police officers.
The recall petitions cite the pair's support for reducing the police department budget, rent control and increasing fees on home building as justifications, among other reasons.
READ: Santa Ana: Recall Campaigns Launched Against Councilmembers Phan, Lopez
READ: Exasperated Landlord Sought City Help To Evict Councilmember Lopez For Unpaid Rent, Refusal To Move Out
READ: Santa Ana Councilwoman Jessie Lopez' "Vacancy Tax" Is A Bad Idea
The press conference was an attempt by the two councilmembers and their political allies to recast the narrative and paint the recall as a power grab by SAPOA president Gerry Serrano that is targeting them because they are women and minorities.
Lopez and Phan have been in conflict with the SAPOA since their election in November 2020. It reached a boiling point on December 20 when Lopez, Phan and two other progressive councilmembers voted to impose a "last, best and final offer" (LBFO) contract on the rank-and-file officers union. A key provision radically restructured how the union governed itself by abolishing the full-time presidency the union had since the 1980s, without the consent of union members.
READ: Santa Ana's Progressive Majority Forces Police Union To Ditch Full-Time Union President Position
The press conference was held in front of Santa Ana City Hall, with organizational help from Chispa OC, a left-wing, anti-law enforcement group that strongly supports Lopez and Phan. Chispa, which is sponsored by San Francisco-based Tides Advocacy, last week tweeted that police officer unions aren't really unions:
The event was kicked off by Ad Briceno, co-president of UNITE-HERE Local 11, a militant union representing hospitality industry workers. Briceno is also head of the Democratic Party of Orange County (DPOC), although she omitted that from her self-introduction.
The OC Democrat Party chair pledged the "stand strong and fight back" against the recall. Last week, the DPOC voted to support a teacher union-backed recall targeting four conservative members of the Orange Unified School District.
Lopez followed Briceno; she and every speaker who followed previewed what appeared to be the anti-recall campaign's message points: the recall is a mere personal vendetta by the SAPOA president, and Lopez and Phan have been targeted because they are women of color.
"This is not the first time [Serrano] has come after women in the [council] chamber," said Lopez, reading from a prepared statement, in an apparent reference to the SAPOA's successful recall of conservative Republican Councilmember Ceci Iglesias in 2020.
"This is a recall targeting women," said Lopez.
Both Phan and Lopez talked up their votes for Santa Ana's rent control ordinance – which is the most draconian in the state and already subject to at least one legal challenge – and support for pandemic-era policies like "hazard pay" for front-line workers.
More than that, they inveighed against Serrano, as well as the "greedy corporate landlords" they allege are behind the recall campaign.
Recall chairman Tim Rush dismissed the claims by Phan and Lopez as desperate spin intended to divert attention from their records.
"This recall is about so much more," said Rush. "Lopez and Phan are hostile to the police officers on the front lines of keeping us safe. They've made it more expensive to build much-needed housing in Santa Ana. They've passed an unworkable rent control law that is backfiring by reducing the supply of affordable housing and making it harder to evict criminals who prey on their hard-working neighbors."
Rush also scoffed at claims Lopez and Phan are being targeted by the SAPOA because they're women and color.
"That's bull. I don't speak for them but its public record that the POA has a long history of supporting women and minority candidates for mayor and city council," said Rush.
Last year, the SAPOA heavily supported two Latina candidates: mayoral candidate Valerie Amezcua and Councilwoman Nelida Mendoza. In past elections, Rush noted the union supported prosecutor Claudia Alvarez as well as Pat McGuigan – who was the first woman elected to the Santa Ana City Council.
"We're trying to recall Lopez and Phan because they're terrible councilmembers and Santa Ana residents deserve better."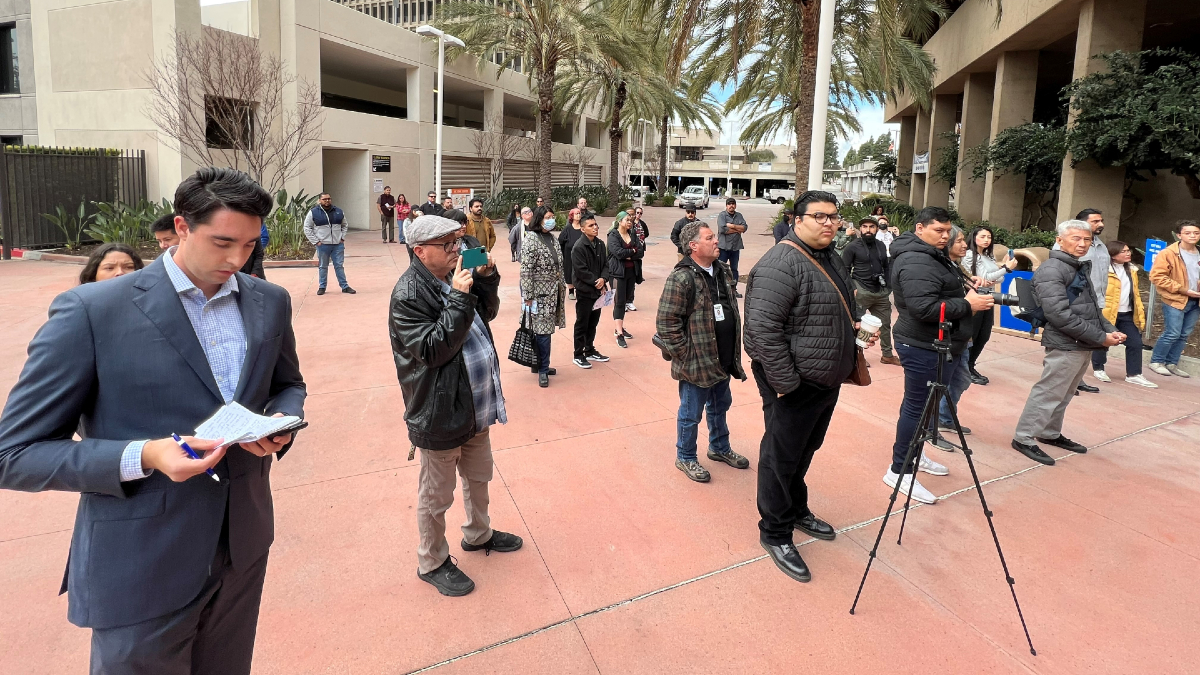 Lopez-Phan Ally: Recall Is "Violence Against Women," Compares Police Union To "Organized Crime"
Councilman Johnathan Hernandez, who was elected in 2020 with Lopez and Phan, gave the most incendiary remarks of the press conference – unloading on the SAPOA and law enforcement in general.
He praised Phan and Lopez as "champions" and "leaders that were willing to challenge police and that we're willing to hold police accountable."
Hernandez painted the police in sinister tones.
"There is an issue that is happening across this country and we are now seeing it in our own backyard," said Hernandez. "Police are starting to infiltrate our city councils and they're starting to infiltrate these leadership positions."
"When the police union doesn't get their way they retreat to violence," claimed Hernandez. "They are going to come for you."
Hernandz claimed unequivocally that the recall campaign is violence and characterized it as part of a larger police campaign against racial and ethnic minorities.
"Well, violence isn't just police gunning us down in our backyards, it is targeting women. It's targeting vulnerable minorities in these communities," said Hernandez. "It's no secret that our communities are being hyper policed. And now they're targeting and recalling the two women leaders that have stood against them."
"This is what police violence looks like," said Hernandez. "This union is starting to look like organized crime."
Hernandez called on supporters to "disrupt" the efforts of those gathering signatures for the recall petitions.
"When they attempt to start this recall process, we need to block it," exhorted Hernandez. "We need to disrupt this."
"We also need to make sure that if we need to take to the streets, we show [the police] whose streets these are, because these streets don't belong to the police," said Hernandez.
Sarmiento: Lopez and Phan "Are Not Easily Bought Off"
If enough voters sign the petitions to qualify the recall, according to Supervisor Vince Sarmiento – giving voters the opportunity to vote for or against ousting Lopez and/or Phan – that is "undermining democracy" and preventing the recalls from qualifying for the ballot was important "to protect our democracy."
The 2nd District Supervisor bizarrely compared the SAPOA's support for recalling Lopez and Phan with Roman Reyna's resignation from the Santa Ana City Council following his conviction for election fraud: Reyna did not live in the council ward from which he was elected.
"What they are doing is a movie I've seen too many times," said Sarmiento. "And I see my former council member out there, Roman Reyna, we know what they do. We know what they've done."
Sarmiento, who was Santa Ana mayor from 2020 to 2022, defended Lopez and Phan as hard-working councilmembers who "do not take special interest money, who are not easily bought off."
He then handed off the microphone to Derek Smith, the political director of United Food and Commercial Workers Local 324 – which is one of Sarmiento's biggest campaign donors. Smith leads Local 324 efforts to unionize cannabis businesses and lobbying Santa Ana on cannabis issue.
Last year, when he was mayor, Sarmiento directed Santa Ana city staff to take under consideration a UFCW-drafted cannabis ordinance passed to his office by Smith, for possible city council consideration.
READ: Santa Ana Mayor Sarmiento Asks City Staff To Review Cannabis Tax Credit Ordinance Drafted By Campaign Donor
Smith pledged UFCW Local 324 would assist the campaign to defeat qualifying the recalls.
The press conference was attended by about two dozen people, primarily progressive activist supporters of the duo.