Santa Ana Councilmember Johnathan Hernandez's attempt to place a Marxist anti-police activist on the city's new Police Oversight Commission was stymied at the March 21 council meeting after colleagues raised objections to the activist's ability to be fair and objective.
Fernando Delgado, campaigns manager for the left-wing advocacy group OCCORD, is a self-described "abolitionist" – someone who believes police are oppressive and unnecessary for public safety, and should be replaced with a generous network of social programs.
He was active in working with other anti-law enforcement activists for the creation of Santa Ana's police oversight commission – which was ultimately enacted by the city council last year, albeit watered-down from what social justice activists demanded.
In his Instagram profile, Delgado – uses the handle @fernando.deveras – describes himself as an "abolitionist" and includes the handle of the abolitionist IG account he operates, AbolitionNowOC:
Delgado's nomination was pulled from the consent calendar by Councilman Phil Bacerra, who held up copies of two offensive IG posts by Delgado. One – posted on @AbolitionNowOC – showed the rapper Bambu DePistola, a former gang member, Marine Corps veteran, and communist activist, rapping "Fuck A Cop" – which Delgado praises in a comment as "an abolitionist anthem."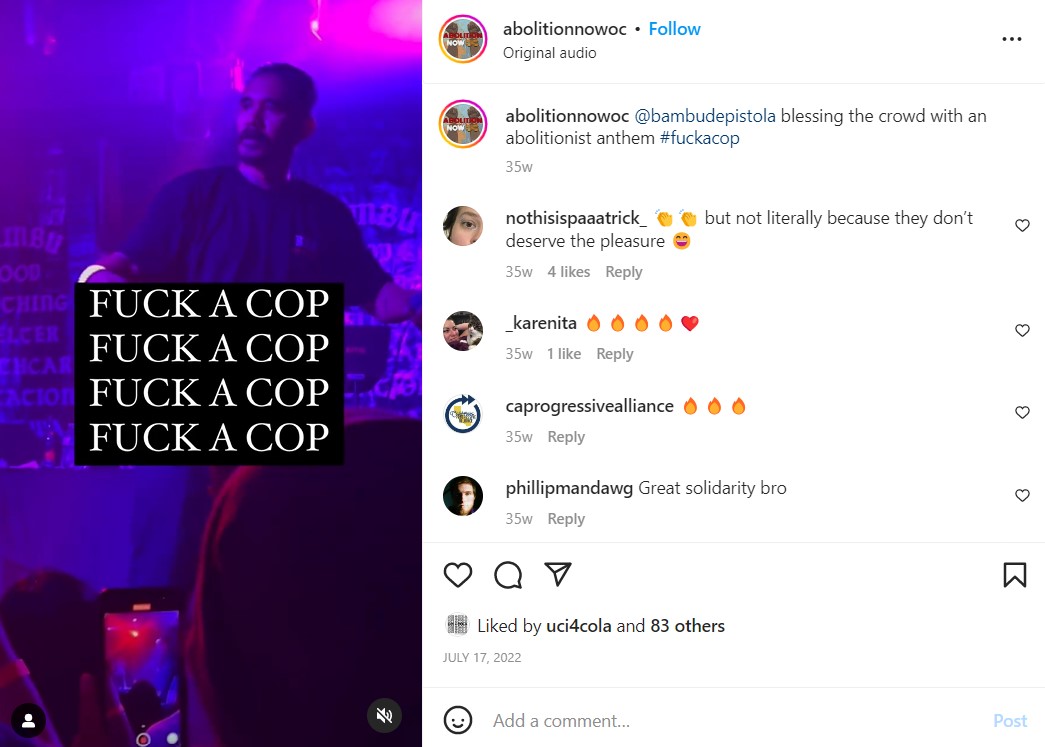 Bacerra also held up a photo that Delgado post on his Instagram to commemorate International Women's Day: a famous 1967 photo of a Communist militiawoman holding a captured American pilot, Air Force Major Dewey Waddell. at bayonet point. Waddell had been been shot down during a combat mission over North Vietnam, and would spend the next six years as a prisoner of war in the infamous Hanoi Hilton.
More than 58,000 Americans were killed during the Vietnam War.
The photo was staged by journalists from communist East Germany, who directed Waddell to walk up and down the rice paddy and to 'Keep your head down and don't say anything.' The photo and video were used for propaganda purposes by the Communist Bloc.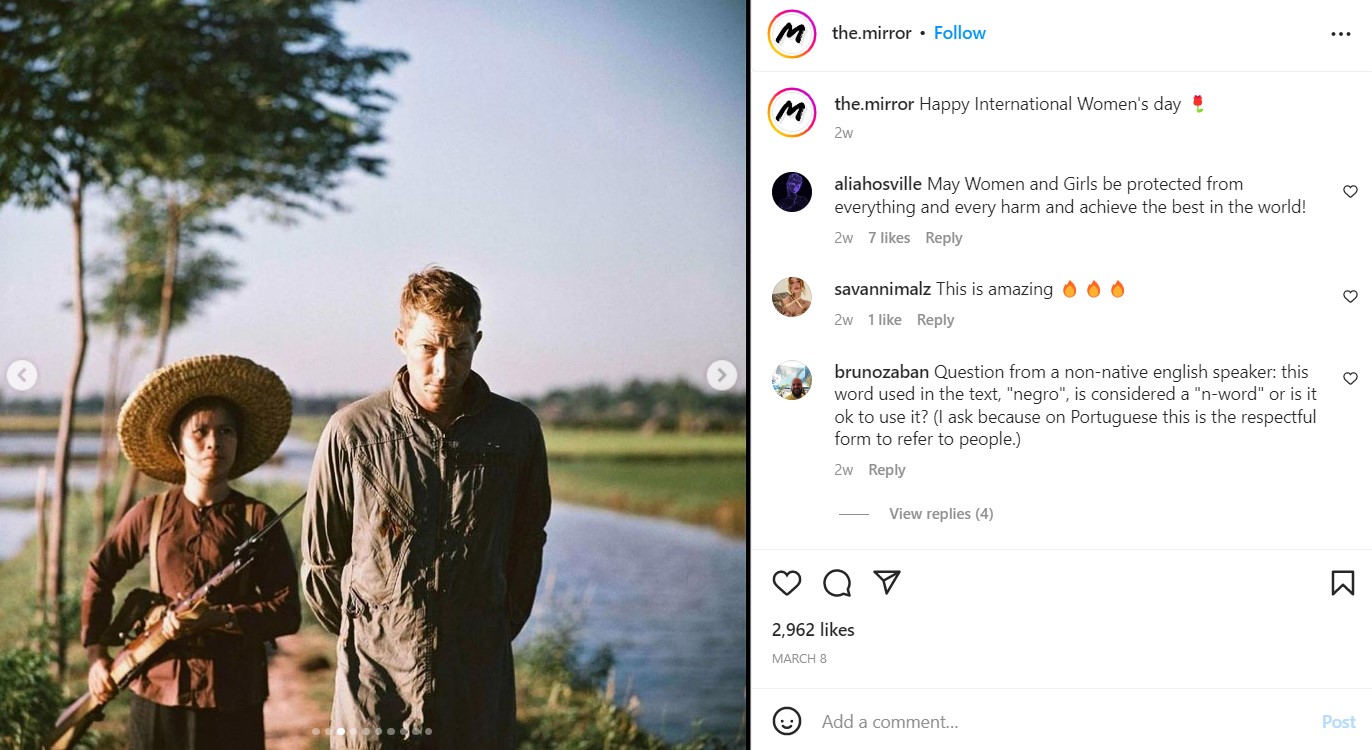 Delgado was at the council meeting, but offered no explanation why he would commemorate International Women's Day with a Communist propaganda photo intended to humiliate and demoralize Americans serving in the Vietnam War.
The photo was part of a revolutionary montage post on the militant Communist IG account The Mirror, in celebration of International Women's Day. Delgado shared it on his Instagram.
Some councilmembers said Delgado's views as expressed through his social media called into question his ability to serve in a fair-minded manner, and expressed concern his appointment would undermine the oversight commission's effectiveness and capacity to command community trust.
"Nowhere in the ordinance [establishing the oversight committee] does it suggest dissolving or eliminating our police department," said Bacerra. "Those who are nominated to serve on this police oversight commission should understand the intention and purpose of the commission that they wish to serve on."
"The nominee Fernando Delgado does not," said Bacerra, making it clear he would oppose Delgado's nomination.
"Does that sound like somebody who wants our police department to improve its law enforcement operations?," said Bacerra, referring to the "Fuck A Cop" post shared by Delgado. "This commission is too important to appoint people who have stated such extreme biases against all police."
Councilman David Penaloza pointed to a "social media rant" by Delgado regarding an incident last fall in which Santa Ana police officers shot and killed a man who pulled a gun on them.
Penaloza was disappointed Delgado for castigating the police "before even knowing the circumstances before even knowing what transpired on that day" and said he doesn't "want to see someone on the police oversight commission going out after our officers before facts or even known."
Councilman Johnathan Hernandez, who nominated Delgado, said he had not seen the posts Bacerra displayed to the council.
"I am ashamed to see an image that is associated with pain being shared by someone I respect," said Hernandez. "I don't hold him to that mistake. I do hope that he can challenge himself to be better and not support somebody that did murder so many people."
However, Hernandez gave no indication he would withdraw Delgado's nomination, and later criticized others for looking into Delgado's online political activism, calling it "surveiling."
Mayor Valerie Amezcua expressed deep dismay over Delgado's using the Dewey Waddell photo to celebrate International Women's Day, noting that her family – like thousands of others – had lost families members who fought in the Vietnam War. Amezua said she could not support Delgado's nomination.
Councilwoman Thai Viet Phan is the sole Vietnamese-American member of the council and expressed her deep disappointment that Delgado's use of the Dewey Waddell photo in that context. At the same time, she wanted to afford him the opportunity to explain what he was thinking and moved to have the nomination continued to the next council meeting.
The motion passed 6-1, with Councilman Bacerra voting in opposition.
Councilmembers Jessie Lopez and Ben Vazquez indicated they would support Delgado, which means his nomination hinges on Phan's vote.