The Orange County District Attorney's has cleared the Orange Unified School District Board of Trustees of accusations of Brown Act violations stemming from the January 5 special meeting at which the superintendent was fired.
The OCDA's office also determined that Trustee Kris Erickson – who loudly opposed firing Superintendent Gunn Marie Hansen – did violate the Brown Act by publicly disclosing confidential discussions from the closed session portion of the January 5 board meeting.
At the January 5 special meeting, in response to questions from OUSD Board President Rick Ledesma, assured trustees their meeting was in compliance with the Brown Act.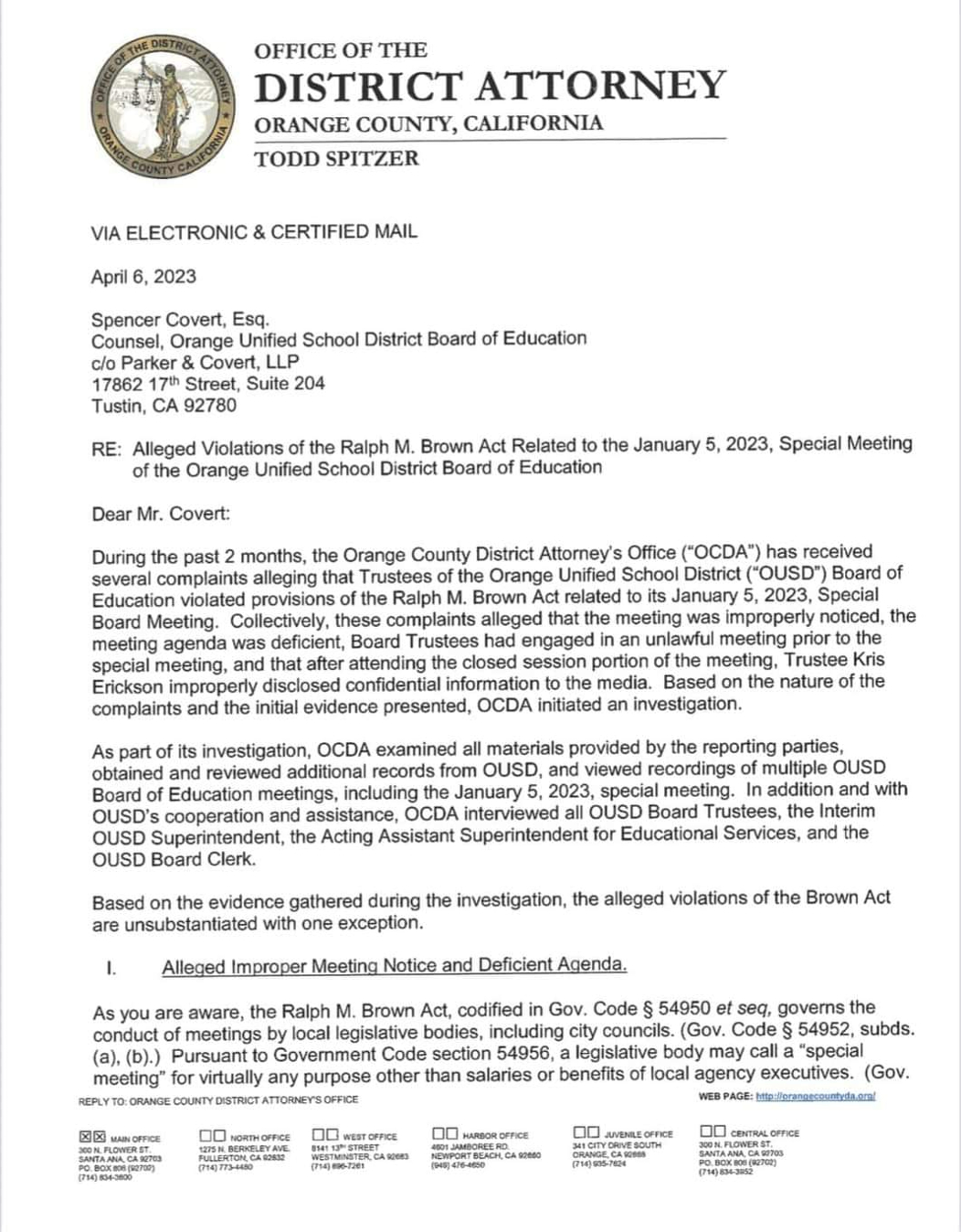 In an April 6 letter to district counsel Spencer Covert, Senior Deputy District Attorney Steven Shriver noted the OCDA received "several complaints" alleging various Brown Act violations related to the January 5 meeting.
Shriver stated that after reviewing materials provided by complainants, records obtained from the OUSD, viewing multiple OUSD Board meetings, and interviewing all trustees and several, his office found "no evidence" to support the complaints.
However, Shriver determined that Trustee Kris Erickson – who has led the criticisms of the conservative majority's firing of Hansen – did violate the Brown Act by disclosing confidential closed session discussions in the media.
"Evidence gathered during this investigation indicates that Trustee Kristin Erickson disclosed confidential information from the OUSD Board's January 5, 2023 closed session meeting to the Orange County Register in violation of the Brown Act," stated Shriver.
While noting Brown Act violations are "serious" and may "result in criminal and civil prosecution," Shriver stated the "interests of justice can be served" by Erickson taking a Brown Act refresher course.
Last November, OUSD residents voted in a new conservative majority that campaigned on a promised to support charter schools, maximize education choice and guard against the encroachment of woke ideology into district curriculum.
One of their first acts was firing Superintendent Gunn Marie Hansen and placed Cathleen Corella, the assistant superintendent in charge of curriculum, on paid administrative leave pending an academic audit. At the same time, the Board appointed Edward Valezquez, a former superintendent of Montebello and Lynwood unified school districts as interim superintendent for a two-month stint.
The firing was unexpected and caught many off guard, and sparked widespread criticism. The district teachers union and allied parents vowed a recall against the conservative trustees, which was quickly endorsed by the Democratic Party of Orange County, which pledged financial and organizational support.
Velazquez left after only a month, reportedly due to the intensity of the blowback from board critics among the teachers union and a segment of district parents.
Two OUSD parents filed lawsuits recently alleging the Brown Act violations stemming from the January 5 meeting – raising the question of whether the litigants will pursue their lawsuits now that the OCDA has determined there is no evidence to support the allegations.
One was filed by Gregory Pleasants, an OUSD parent and progressive political activist who believes the OUSD board majority wants to "destroy public education" and replace it with "taxpayer-funded religious dogma."