Alfonso Alvarez, a two-term member of the Santa Ana Unified School District Board of Education, was arrested for drunk driving this past Saturday, July 29.
The incident occurred at 8:00 p.m. near the intersection of Grand Street and Edinger Avenue in Santa Ana, according to Officer Natalie Garcia, public information officer for the Santa Ana Police Department. The SAPD responded to a call from an individual asking them to come to the scene of an auto accident in which they were involved. The caller said the driver of the other vehicle appeared to be intoxicated.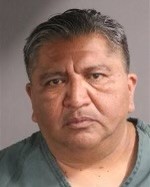 A patrol car and department's DUI unit arrived and it turned out the intoxicated driver was Alvarez, who was first elected in 2016 to the SAUSD Board of Education, where he is an advocate for progressive education policies. He is a favorite of left-wing political groups such as ChispaOC.
The SAPD field report states the person whom the school board member hit told the police dispatcher that Alvarez "smells of alcohol" and "appears to be out of it." The victim complained to the dispatcher of neck pains and requested paramedics.
According to Garcia, Alvarez admitted he was at fault. He was arrested and taken to the Santa Ana Jail for booking.
OC Independent is the first media outlet to report news of Alvarez's arrest.
Earlier in the day, Alvarez went on a "Mystery Bus" trip organized by the Santa Ana Elks Lodge, in which Santa Ana Lodge members visited three other lodges and socialized with fellow Elks.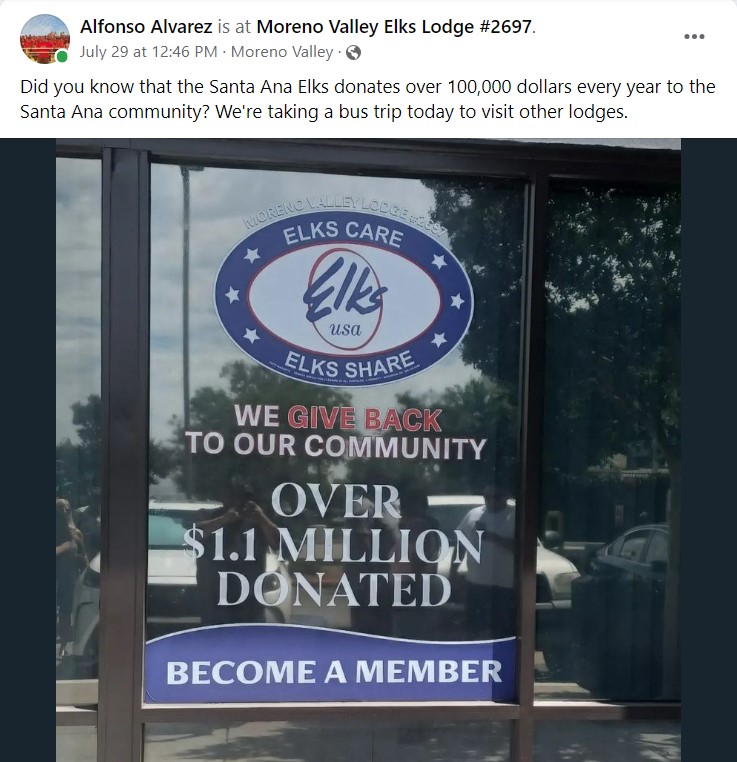 Alvarez's Elks membership became a source of controversy – because the school district has been paying for his Elks Lodge membership.
READ: Editorial: Why Are SAUSD Taxpayers Paying For Trustee Alfonso Alvarez's Elks Lodge Membership?
Alvarez has been a member of the Santa Ana Elks Lodge for 13 years. The SAUSD has been paying his lodge dues since the spring of 2022, contending Alvarez is serving as the school district's "official representative" to the lodge.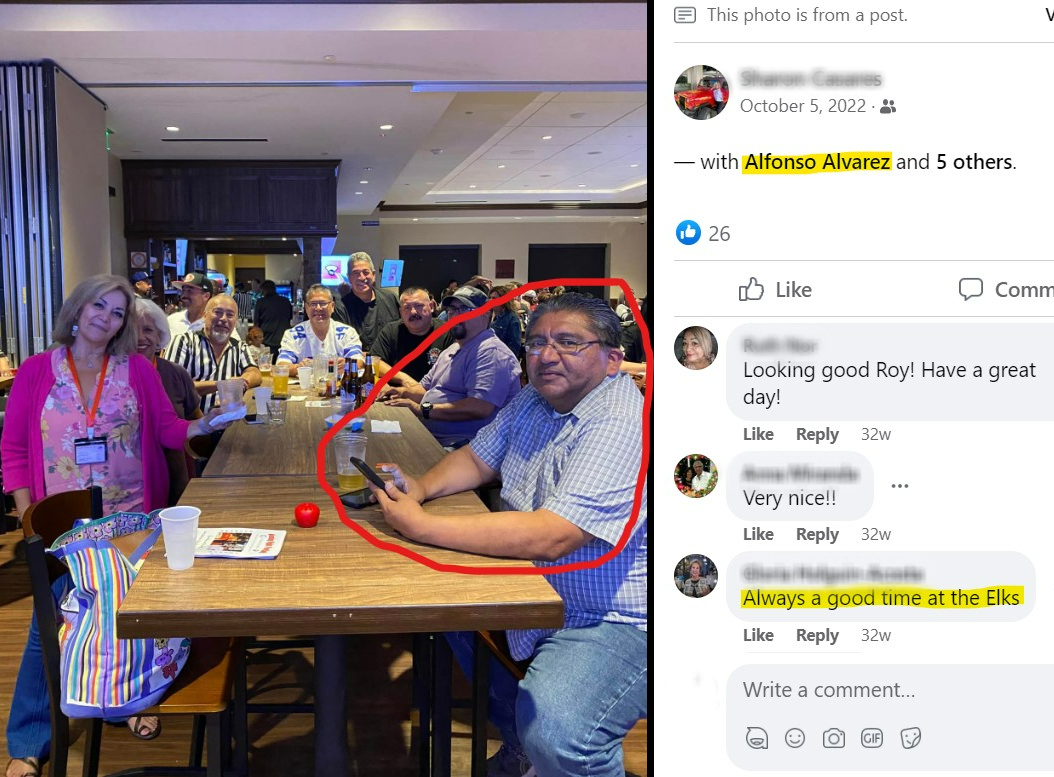 Since 2001, Alvarez has worked for the County of Orange's Social Services Agency, where he is currently a senior social services supervisor, as well as a union steward for the Orange County Employee Association.
OC Independent has reached to Alvarez and the Santa Ana Unified School District for comment on the DUI arrest.
SAUSD spokesman Fermin Leal replied, "We do not have any comment at this point."
We have also requested additional information from the Santa Ana Police Department.