It looks like 4th District Supervisor Doug Chaffee will survive a surge by Republican Brea Councilman Steve Vargas, and face off against fellow Democrat Sunny Park, the progressive mayor of Buena Park.
On Election Day, Park, Chaffee and Vargas finished first, second and third, respectively. Since then, Vargas has been chipping away at Chaffee's lead due to a strong showing among voters who cast their ballots in person. Vargas has been winning 50% of Vote Center ballots.
On election night, Chaffee led Vargas by 980 votes. By yesterday's end of day tabulation, Vargas had cut that lead to 547 votes.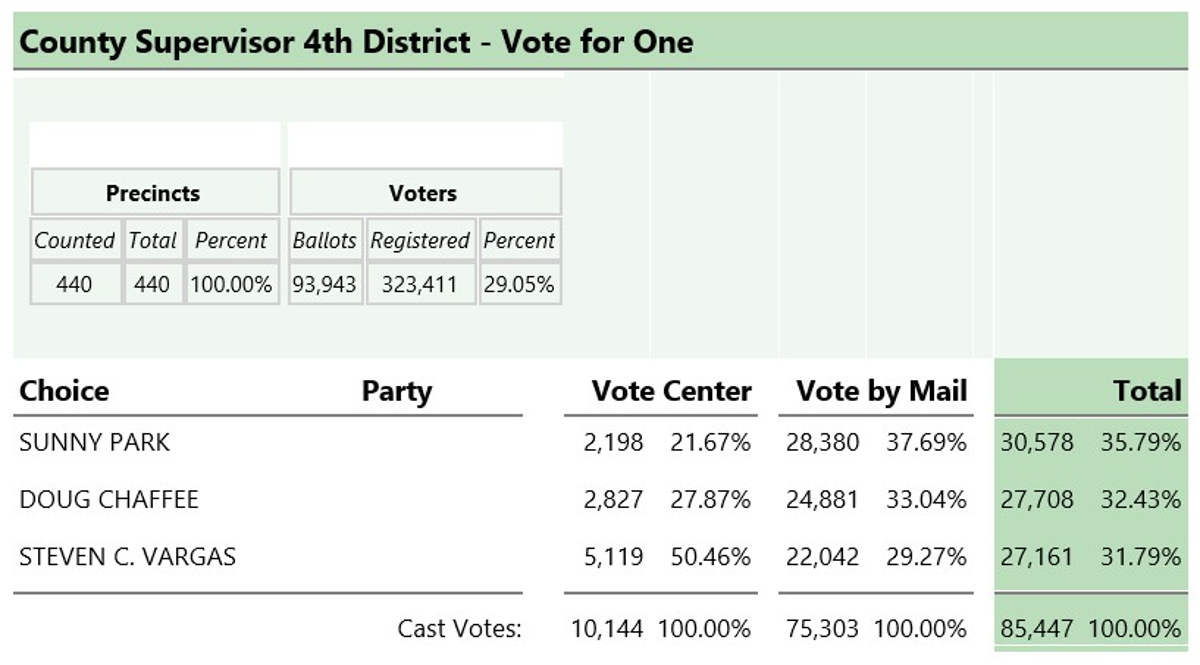 Although Vargas has been winning 50% of Voter Center ballots, the cold reality is most voters voted by mail, and he is only capturing 29% of those.
According to the OC Registrar of Voters, there are only 2,179 uncounted ballots county-wide. The math isn't there for Vargas to move into second place and make Chaffee the first Orange County supervisor to lose re-election since Cynthia Coad was defeated by Chris Norby in the November 2002 run-off.
Barring a miracle, the primary results set up a Democrat-v-Democrat contest between Park and Chaffee.
The Democratic Party of Orange County and a number of prominent Democratic elected officials have endorsed Park, in large part because they see Chaffee as insufficiently partisan. An ironic sidebar to that is Chaffee's supervisorial staffers are highly partisan, progressive Democrats.
Interestingly, all of Park's colleagues on the Buena Park City Council have endorsed Chaffee.
Neither candidate will lack for financial resources: Park has demonstrated strong fundraising chops, while Chaffee is rich and has demonstrated a willingness to spend as much of his own wealth as is necessary.
Chaffee loaned his campaign $600,000 for the primary, and as of May 21 had more than $190,000 cash-on-hand. In 2018, Chaffee loaned his campaign $650,000.
A key question is where voters who supported Republican Vargas voters will go in November. Who is better positioned to appeal for their votes: moderate business Democrat Chaffee, or progressive, social justice Democrat Park?