After enduring months of partisan litigation, a contentious re-districting brawl and being targeted by partisan legislation, and unrelenting attacks for their pro-charter school stance, the Orange County Board of Education's conservative majority emerged from the June primary election in a strengthened position.
OCBE Trustees Mari Barke, Lisa Sparks, and Tim Shaw were handily re-elected, defeating a slate of teacher union-backed candidates.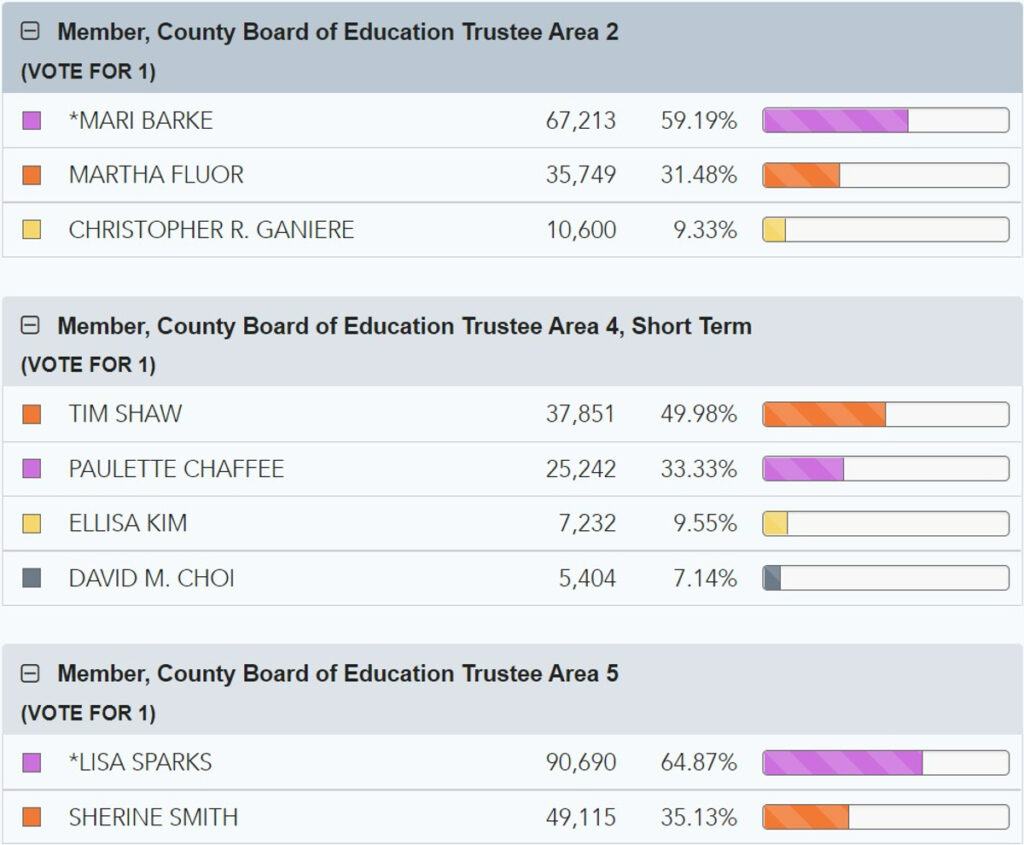 The voters' verdict represents a resounding victory for three incumbents, who have been the subject of relentless attacks for their support of expanding charter schools in Orange County, as well as their opposition to incorporating Critical Race Theory principles into public school curriculum.
READ: OC Board Of Education Fights Two-Front Battle Against Union-Backed Foes
The results are particularly painful for Paulette Chaffee, who moved heaven and earth to position herself to defeat incumbent Tim Shaw, who defeated her for the OCBE in March of 2020. Shortly after Shaw was sworn-in, a close friend of Chaffee's filed a lawsuit against Shaw claiming his election violated state (he was also a member of the La Habra City Council). In late 2021, Shaw resigned from the OCBE rather than fight an expensive litigation battle, and was later appointed by the OCBE to fill the vacancy.
"I may be the first Board of Education candidate to ever get overwhelmingly elected by the voters twice in the same term!" said Shaw. "I am deeply grateful to the voters of the 4th district who put their trust in me. Our children's education is a top concern for everyone, so I am humbled at this opportunity."
Education Establishment Throws Kitchen Sink At Pro-School Choice OCBE Majority
In December of 2021, the OCBE adopted a new district map that perfectly balanced population among the districts, while also creating Latino and Asian districts.
In a highly unusual move, this map was rejected by the Orange County Committee on School District Organization, an obscure state agency that routinely approves school district voting maps.
READ: Obscure School Agency Prepares Political Hatchet Job On OC Board of Education
The OCCSDO is dominated by teacher union members and sympathizers, and instead chose a map submitted by a partisan Democrat demographer that was drawn with voters party affiliations in mind.
READ: Voter Party Affiliation A Key Factor In Drawing Controversial County School Board Elections Map
The dispute wound up in court, and the OCCSDO map was used for the June 2022 primary while the litigation plays out in court.
In February, a partisan Democrat activist named Michael Sean Wright filed a lawsuit alleging Shaw's appointment was illegal and demanding his removal. Wright works for a political advocacy entity funded by liberal Democrat multimillionaire Andy Thorburn, who self-funded an unsuccessful campaign for the OC Board of Education in 2020.
READ: Left-Wing Activist Sues OC Board of Education, Alleging Illegal Appointment
Although the lawsuit stumbled several times on procedural matters, a judge ultimately granted a motion to enjoin Shaw from functioning as an OCBE member until the lawsuit was resolved. However, the lawsuit failed in its primary aim of removing Shaw and preventing him from running in the June primary as an incumbent.
Concurrently, state Senator Dave Min, a progressive Democrat, introduced legislation to move Orange County Board of Education elections from the June primary to the November general election. Min, who has been a vocal critic of the OCBE majority's conservative philosophy, claims he is not motivated by politics but merely wants to move Board elections to the higher turnout November election.
READ: Progressive State Senator Takes Aim At Pro-Charter School OC Board of Education
At the end of the day, the various machinations came to naught as the three conservative Board members won re-election by commanding margins.
In A Twist, Teacher Union Candidate Slate Was Outspent
Public school system employee unions generally dominate school board elections, since they are the only organized interests with the staying power and resources to dominate the campaign spending side of local school board races.
That was not the case in the Orange County School Board election, in which the three incumbents outraised their union-supported opponents. They put together their warchests from small and medium contributions from their activist donor base, and large contributions from charter school and conservative education reform groups.
In Area 2, incumbent Mari Barke raised $224,606 compared to Martha Fluor's $75,655.
In Area 4, incumbent Tim Shaw amassed $245,101 but was outraised by Paulette Chaffee's $289,834 ($280,000 of which came from the wealthy Chaffee's personal funds).
In Area 5, incumbent Lisa Sparks raised $211,470 compared to Sherine Smith's $113,902.
"Dedicated parents and teachers have spoken and their voices are loud and clear! OC families know that we have been fighting for parent rights, curricular and budget transparency, and public charter school options so families are not tied to their zip code," said Sparks. "We will continue to represent their voices every step of the way! I am so grateful for the confidence voters have in me and my OCBE colleagues and our efforts to fight for their voices to be heard."
The unions didn't come in as heavy as their anti-charter school rhetoric indicated they might have. The reality is there aren't that as teacher and classified employee union jobs at issue in the OCBE election as in an ordinary school district.
Ahead: Status Quo Ante-Plus
Absent an upset defeat for incumbent Superintendent Al Mijares, don't expect much to change in OCBE governance, going forward. Having weathered an sustained, organized, well-funded, multi-pronged and very public attack by the public education establishment, the Board majority will understandably view the lopsided election results as a voter mandate for continuing its reformist agenda of maximizing opportunities for innovative education and parental choice.
"I am so excited about the recent election. Even though the results are not certified I feel like the voters of Orange County have really given us a mandate to continue our important work here in Orange County on behalf of students, parents and families," said Barke.
At the same time, since the election both Mijares and members of the Board majority have expressed a desire to work collaboratively where possible despite serious differences.
"It is in the best interest of everyone that the trustees and superintendent work collaboratively," Trustee Barke told the OC Register.
The results give pro-school choice trustees a 4-1 majority on the OC Board of Education (including Trustee Ken Williams); Trustee Becky Gomez, a Democrat with a more establishmentarian viewpoint, is often at loggerheads with the Board majority.
That could very well change in the near future. Gomez, who is also a member of the Tustin City Council, has been served with an incompatible offices lawsuit like the one that led to Shaw's resignation from the OCBE.
Political observers widely expect Gomez – who is running for mayor of Tustin this November – to follow Shaw's example and resign her Board seat. This would allow the four conservatives to appoint a like-minded person to fill the vacancy.