The Santa Ana City Council is looking at putting several charter amendments on the November 2022 ballot – one of which will likely be a measure allowing non-citizens to vote in city elections.
If passed, Santa Ana would become the first California city to allow non-citizens to vote in city council and mayoral elections. In 2016, San Francisco voters approved a measure allowing non-citizens to vote in elections for the San Francisco Unified School District Board of Education.
The council's progressive majority supported a call by Councilman Johnathan Hernandez and Mayor Vince Sarmiento for a radical break with U.S. constitutional tradition by giving non-Americans the right to vote in Santa Ana municipal elections.
The ballot measure would make no distinction between non-citizens who are legal residents, and immigrants who are in the country illegally.
"These are people who pay taxes. These are people who live in our community," said Councilmember Johnathan Ryan Hernandez, a radical progressive and prime mover behind the idea to allow foreigners to vote in an American city's election.
During the council meeting, Hernandez said he got the idea from Idalia Rios, who called into the council meeting. Rios is a progressive political activist and organizer with the Residents United Network, a progressive advocacy group that reported revenues of nearly $1.8 million in 2020. Rios has advocated for rent and mortgage cancellations.
Joining Sarmiento and Hernandez were Councilmembers Jessie Lopez, Thai Phan, and Nelida Mendoza. Opposed were Mayor Pro Tem Phil Bacerra and Councilmember David Penaloza.
In California, the deadline to register to vote is 15 days before Election Day. If the proposed Hernandez/Sarmiento ballot measure were approved by voters, a foreigner could arrive in Santa Ana 15 days before Election Day, be registered to vote and cast a ballot in the mayoral and council elections (lack of a fixed address isn't necessary to register to vote in California).
The federal law prohibits non-citizens from voting in federal elections, and retains that right for American citizens.
All 50 states either require a person to be a U.S. citizen to vote in state elections, or do not explicitly address the subject. No state expressly allows non-citizens to vote in state elections.
If approved by Santa Ana voters, the charter amendment would extend voting rights to a huge swatch of people who are not citizens of the United States. About 25% of Santa Ana's population of 332,610 – or 82,129 people – are not American citizens, according to the U.S. Census Bureau.
Progressive Political Groups Applaud Action
The progressive council majority's decision was applauded by their allies on the political Left.
Orange County Communities Organized For Responsible Development (OCCORD) hailed it as a "MAJOR step toward inclusive democracy":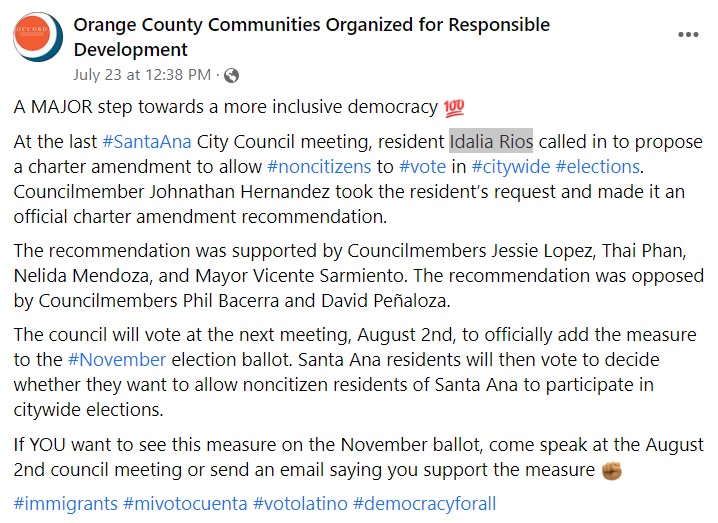 OCCORD is the non-profit community organizing arm of militant unions such as UNITE-HERE Local 11. It reported revenues of more than $1 million for 2019, the most recent year for which records are available.
ChispaOC, a radical advocacy group controlled and funded by San Francisco-based Tides Advocacy, was similarly exultant:
Others are not so sanguine at the prospect of extending the right to vote in an American election to people who are not Americans. OC Independent reached out to Ryan Williams, president of the conservative Claremont Institute, who explained the idea is contrary to the country's founding principles of equality before the law and consent of the governed.
"One of the most fundamental aspects of modern politics is the distinction between citizens and non-citizens," said Williams. "The moral core of citizenship is mutual consent derived from natural human equality of rights. None of us are born to rule one another without consent. Allowing illegal aliens that we have not formally admitted to enter the political community to vote is a violation of the most sacred principle of American justice."