At the behest of Mayor Vince Sarmiento, Santa Ana city staff is reviewing an ordinance providing tax credits to qualifying licensed cannabis businesses in the city, and written in a manner that makes it difficult for non-unionized cannabis shops to qualify for the tax credits. The draft ordinance was written by United Food and Commercial Workers Local 324 and submitted to city staff via Sarmiento's office on May 31.
On May 2, Sarmiento's county supervisor campaign had accepted a maximum contribution of $2,200 from UFCW Local 324.
READ: Santa Ana Mayor Sarmiento Asks City Staff To Review Cannabis Tax Credit Ordinance Drafted By Campaign Donor
The "Model Cannabis Tax Credit Program for Municipalities" states as its goal "addressing the historic injustices created by the War on Drugs in certain communities."
It contains no specifics about the tax credits themselves, but goes into considerable detail on the qualifying criteria cannabis businesses must meet in order to get them.
In order to qualify for the unspecified tax credits, cannabis business must comply with a complex set of rules that pertain primarily to employment practices:
60% of its employees must be full-time e.g. work at 32 hours per week or 1,664 hours per year for an hourly wage.
A "social equity policy" must be adopted addressing the "disproportionate impact of the War on Drugs" on "certain communities affected by it" by hiring "equity employees": Santa Ana residents who have criminal drug records and/or live in low-income census tracts "where at least fifty-one percent of current residents have a household income at or below eighty percent of the County Area Median Income."
At least 40% of a cannabis business' workers must be "equity employees" in order to qualify for the tax credits.
Cannabis business must also pay an hourly wages at least 115% of the state minimum; the wage qualification threshold jumps to 130% within three years of the ordinance going into effect.
"Qualifying employees" (non-management staff and delivery drivers who get mileage reimbursement) must receive equity compensation such as stock options.
The draft cannabis ordinance would also abolish Santa Ana's current prohibition cannabis businesses hiring employees who have pled guilty to a felony or misdemeanor drug charge in the previous four years. That proscription would remain for owners, operators and manager.
Discriminates Against Non-Unionized Cannabis Businesses
Section 6 (B) states "Licensees who do not qualify as Excluded Licenses pursuant to this Section, but that are otherwise not in compliance with any state or local cannabis law or regulation can be denied access to the tax credit program until such noncompliance is corrected, including but not limited to failing to demonstrate proof of a valid labor peace agreement with a bona fide labor organization."
A "Labor peace agreement" is a pact between an employer and a union under which the employer agrees to make membership in the union a condition of employment. It is a way to short-circuit the normal organizing process of persuading employees to vote to organize as a bargaining unit.
According to an attorney families with cannabis laws, this provision allows non-unionized cannabis businesses that do not meet the aforementioned tax credit criteria to "correct" their non-compliance by entering into "labor peace agreements."
Unions are in the membership business – more members means more dues revenue – and UFCW Local 324 is highly focused on unionizing cannabis businesses as a membership growth strategy.
Out of approximately 60 or so licensed cannabis businesses in Santa Ana, only seven are unionized (and represented by Local 324).
Sarmiento Serves As City Conduit For UFCW
On May 31, Sarmiento's contract council aide Manny Escamilla emailed cannabis ordinance language drafted by the UFCW to city Planning Director Minh Thai and Principal Planner Ali Pezeshkpour. Copied on the e-mail were Sarmiento, City Manager Kristine Ridge, and Kathryn Downs, the city's finance director.
"Hello Director Thai and Ali," wrote Escamilla. "Here are the proposals from UFCW that Mayor Sarmiento asked me to share. Derek Smith is their lead on this and can be reached at dsmith@UFCW324.org – [Smith's cel phone]."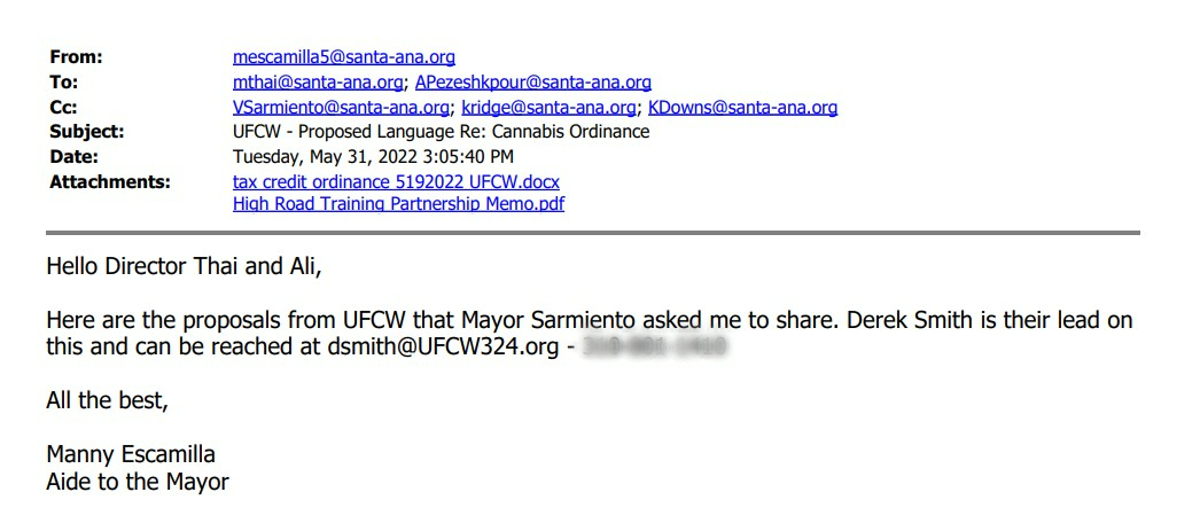 Escamilla works for as Sarmentio's aide on an independent contractor basis, and submits monthly invoices with billing details to the city for payment. According to his April and May 2022 invoices, he devoted several hours to cannabis.
It is unclear when the collaboration among Sarmiento, Escamilla and the UFCW over cannabis began. Sarmientio, Escamilla and Smith have declined requests for comment.