This morning, US Representative Katie Porter announced what political insiders have known for some time: she will run for the U.S. Senate in 2024.
The progressive Democrat claimed she is running because California "needs a warrior" in the U.S. Senate:
"The threat from so-called leaders like Mitch McConnell has too often made the United States Senate the place where rights get revoked, special interests get rewarded, and our democracy gets rigged," said Porter said in her announcement, while failing to specify what rights are being "revoked" or exactly how democracy is being "rigged."
The announcement came on the heels of stories in some media outlets detailing allegations by former Porter staffers (mostly anonymous) of a toxic workplace environment in Porter's office. The staffers claim Porter has used swept sexual harassment complaints under the rug, routinely berates staff and has used racial slurs. A former Wounded Warriors fellow in her office says Porter fired her after the fellow inadvertently gave the congresswoman COVID.
Political insiders reported Porter began making phone calls about a Senate run as soon as it became clear she would survive her re-election battle against Republican Scott Baugh, whom she narrowly defeated in November 2022.
The Senate seat Porter is running is currently held by 89-year old Sen. Dianne Feinstein, who was elected to the U.S. Senate in 1992. Feinstein has not declared her intentions for 2024, although it is widely believed she will not seek re-election.
"Everyone is of course welcome to throw their hat in the ring, and I will make an announcement concerning my plans for 2024 at the appropriate time," Feinstein said in a statement issued after Porter's announcement. "Right now I'm focused on ensuring California has all the resources it needs to cope with the devastating storms slamming the state and leaving more than a dozen dead."
The belief in the likelihood of Feinstein's retirement has sparked interest in the seat among a number of California Democrats, including Rep. Adam Schiff.
Schiff has garnered positive feelings among the Democratic base for his relentless attacks and allegations against former President Donald Trump, although his charges of collusion and other transgressions usually turned out to be false or unproven.
Porter's campaign released a poll pitting her against several potential Democrat candidates and an unnamed Republican. The poll has Porter in a statistical tie with Schiff, 30% to 29% – well within the survey's 4% margin of error.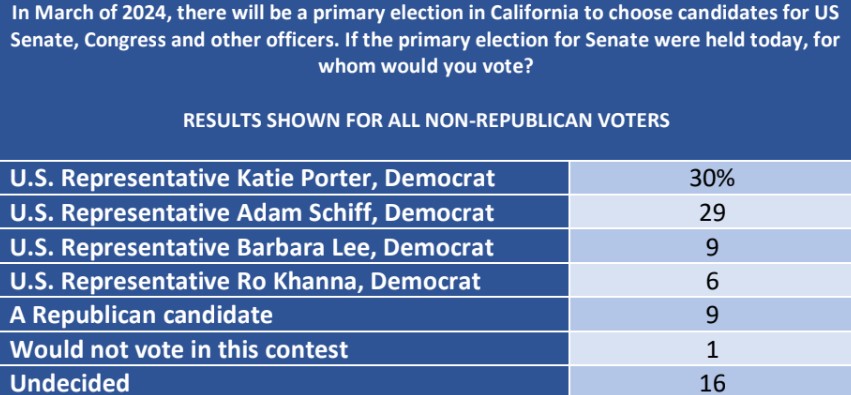 It's unclear on what basis the Porter campaign selected possible opponents for the poll. The potential candidate field is enormous: not only do Democrats hold every statewide constitutional office, but all state constitutional offices were elected in 2022 – meaning any of that run for Feinstein's seat would get a "free ride" by not having to choose between re-election and a Senate run.
Now that President Biden has signaled his intention to run for re-election, Governor Gavin Newsom – who will be termed out in 2026 – may decide a move to the U.S. Senate is his best bet for remaining on the national political stage.
Complaints From Former Porter Staffers Of Abusive, Toxic Work Environment Piling Up
Recently, a number of former Porter staffers have been lodging complaints that Porter is an abusive boss who takes out her frustrations and anger on her staff and has fostered a toxic work environment characterized by high staff turnover. Most of the former staff have supplied their testimony anonymously, although former staffer Sasha Georgiades has publicly stated Porter fired her after catching COVID from Georgiades, a Navy veteran who served on Porter's staff as a Wounded Warrior fellow.
Georgiades provided screenshots of Signal exchanges with Porter to "Dear White Staffers" – an outlet for congressional staffers that posts on Instagram and Twitter.