At its March 28, 2023 meeting, the Santa Ana Unified School District Board of Education approved spending $500 for Trustee Rigo Rodriguez to join a CEO organization called the CEO Leadership Alliance of Orange County (CLAOC).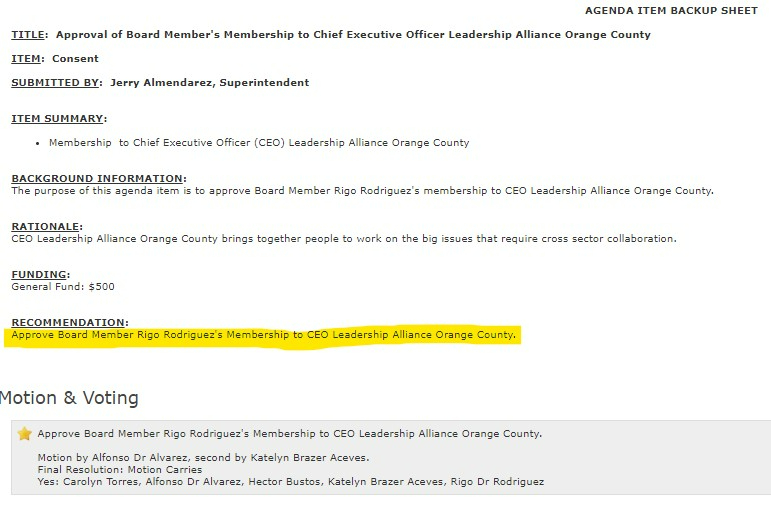 The CLAOC bill itself as "a coalition of CEOs working together to solve our county's most urgent problems and build a thriving Orange County for all."
"CLAOC was founded in 2017 by CEOs and leaders of some of the most prominent companies in the county to help shape a positive future for OC residents. Along with building high-performing, sustainable organizations, members are committed to a larger purpose and working to create a better world," says the organization's website.
Sounds like a great organization committed to doing good things. But why Rodriguez, a Chicano Studies professor at Cal State University, Long Beach who espouses left-wing politics? So why are SAUSD taxpayers footing the bill for his membership in a CEO club?
The official rationale from the March 28 agenda is that the "CEO Leadership Alliance Orange County brings together people to work on the big issues that require cross-sector collaboration."
That's a pretty elastic rationale, the implicit logic of which could rationalize paying for SAUSD trustees to join the Balboa Bay Club or the Pacific Club.
The SAUSD pays for memberships in 98 organizations, virtually all of them with a direct, discrete, and explicit tie to staff development, public policy, and student education. The few of those that are board memberships are in groups like the California School Boards Association and the Orange County School Boards Association. The exceptions are Rodriguez's members in the CEO Leadership Alliance of Orange County and Trustee Alfonso Alvarez's members in the Santa Ana Elks Lodge.
READ: Editorial: Why Are SAUSD Taxpayers Paying For Trustee Alfonso Alvarez's Elks Lodge Membership?
Let's assume for the sake of argument there is a compelling nexus justifying SAUSD paying for membership in CLAOC. Wouldn't it make more sense for Superintendent Jerry Almenderiz to have the membership? After all, he's the actual CEO of the district purportedly being represented.
OC Independent put that question to both the district and Trustee Rodriguez – who referred our request back to the district.
"Dr. Rodriguez's role in the Alliance is to advocate on behalf of SAUSD students, families, and the SAUSD community with business leaders whose organizations often provide resources in communities with high-needs populations," responded SAUSD PIO Fermin Leal. "School board members from districts often serve as members of a variety of organizations, with membership funded by districts, so they can advocate and provide representation on behalf of their communities."
Leal noted the membership description from the CLAOC website: "Our members come from all industries and from every part of Orange County, anchored by CEOs who lead high-performing, values-driven organizations from start-ups to global brands. We also partner with innovative educators, non-profit executives, and other key leaders." [Emphasis in the original.]
"We also partner…" – in other words, a membership for Rodriguez isn't necessary for the SAUSD to partner with the CLAOC. Given the spirit permeating the CLAOC website, it's hard to imagine the group would demand SAUSD take out a paid membership as a precondition for collaborating to help SAUSD students.
As with Alvarez's Elks Lodge membership, the school district's official line is that CLAOC membership is not a personal membership for Rodriguez:
"As with Dr. Alverez's membership with the Elks Lodge, Dr. Rodriguez serves on the CEO Leadership Alliance Orange County as a representative of the Santa Ana Unified Board of Education. This is not a personal membership where he provides no representation for SAUSD (This is prohibited by state law). The CEO Leadership Alliance Orange County allows membership of leaders from a cross section public and private organization across the region."
That's the claim notwithstanding that the item approved by the SAUSD Board states explicitly it is "Board Member Rigo Rodriguez's membership to CEO Leadership Alliance Orange County" and the membership can't be used by other board members of the superintendent.
The SAUSD Board also recently voted to pay Trustee Katelyn Brazer Aceves' employer to give her 20 paid days off to do school board member stuff – on top of the paid time off she is already entitled to and her nearly $10,000 yearly board member stipend.
READ: SAUSD Board Approves Unusual Subsidy For Trustee Katelyn Brazer Aceves, Paying For 20 Days Off Work Annually
This practice of self-dealing by the SAUSD Board of Education has rankled the Santa Ana City Council and is interfering with collaboration on funding school crossing guards. The SAUSD wants to the city to pick up the entire $7.7 million tab for the program. Most council members expressed willingness to split the cost but not pay the whole thing – and cited the SAUSD Board's funding personal perks for trustees while refusing to pony up funding for crossing guards.
"Over the last month alone, we've seen the corrupt school board approve everything from an annual Elks membership for school board member Alfonso Alvarez – who you can find sitting at the [Elks Lodge] bar drinking by himself for a number of times a week – to providing, as the mayor mentioned, to pay the employer of an elected school board member, Katie Brazer Aceves – I'll say her name – to have an allotted bank of paid time off so that she can perform school board work," said Councilman David Penaloza at the council's May 16 meeting.
"They just approved on Tuesday to pay a board member that already receives a stipend of almost $10,000 a year to be a board member…to pay her 20 days of work for her to call in sick, or call out of work, for 20 days," said Mayor Valerie Amezcua. "Santa Ana Unified is going to pay that money back to her employer, which is the county Department of Education."
"Their priorities, in my opinion, are wrong," Amezcua continued. "If our children are a priority, then let's show it."
Indeed. A CEO club membership for one trustee, an Elks Lodge membership for another trustee, 20 extra paid days off for yet another trustee. The priorities of the SAUSD Board don't seem to align with their self-consciously progressive political posturing.